Quote Posted on Updated on
On a soaring summer morning, Ilim Uddin Dewan (50) drove his SUV to the Chenga Circle Office in Barpeta district of Western Assam. He met the circle officer, the executive magistrate of the revenue circle and the designated Circle Registrar of Citizen Registration (CRCR), for the National Register of Citizens (NRC) within the jurisdiction of revenue circle area.
Ilim Uddin, a middle age successful businessman and politician, who fought for assembly seat in 2011, alleged that his wife Mamataz Dewan was harassed in the name of being illegal immigrant from Bangladesh. A case under Foreigners Act was referred by the border police to foreigner's tribunal in 1997 and the tribunal upheld her Indian citizenship in 2016 after a decade-long legal battle.
Ilim Uddin informed the Circle Registrar of Citizen Registration (CRCR) that despite being proven as Indian citizen, the Local Registrar of Citizen Registration (LRCR) has declined to accept the copy of Foreigners' Tribunal's judgment, thus, he feared that his wife's name will not be included in the soon to be published complete draft.
The NRC coordinator Prateek Hajela has said time and again through the media that once the alleged foreigner or D voter gets clearance from Foreigners Tribunal and found to be Indian citizen will be included in the NRC. The NRC website also says "D voters can apply for inclusion of their names in the updated NRC. However, a D Voter's name will only be included in NRC only after getting clearance from the Foreigners Tribunals."
However, the Circle Registrar of Citizen Registration (CRCR) Rajiv Kumar Das said "My hands are tied; I can't do anything. We are doing what the state office has instructed us to do. State office has a sent list and asked us to keep those names on hold, I can't do anything". As per media report, the NRC authority has blocked 63,000 D voters or doubtful voters.
The officer inquired with his junior officer and confirmed that the database sent by the state office contains her name. "Even though you won the case, I can't accept the papers," said Rajiv Kumar and advised Ilim Uddin to contact additional deputy commissioner, who is his supervisor if a person is not satisfied with the officer's response.
The persons, who have been declared as Indian national by foreigner's tribunal since 2015, will have to wait till the complete draft is published. They will have to go through the claims and objection process along with those whose name do not appear in the complete draft. A window of one month will be provided for re-examination citizenship documents who wouldn't figure in the complete draft or someone who is wrongfully included in the list.
How Significant is Doubtful Voters in NRC?
In March 2018, Assam Minister Chandra Mohan Patowary informed that state assembly that as on December 31, 2017, there were 4,85,640 D voters and suspected citizen (2,44,144 D voters and 24,14,96 reference cases), out of which 2,40,583 (1,31,034 D voter and 1,09,549 reference cases) were disposed of. The foreigners' tribunal has declared over 92,000 persons as foreigner and remaining were able to prove their Indian citizenship.
However, out the 92,000 declared foreigners nearly 15,000 declared foreigners were found to be pre-1971 immigrants, who are treated as Indian citizen as per Assam Accord. Interestingly, over 26,000 cases out of the declared foreigner cases were declared as foreigner through expatriate decree. That means that those 26,000 declared foreigners didn't appear before the court and court didn't examine their citizenship credential. On other words, in many cases, those so called declared foreigners even don't know that the foreigners' tribunal has declared them as foreign national!
On May 2, the NRC coordinator Prateek Hajela sent memo to all district magistrates to block the name of declared foreigners and their family member's names entering into the complete draft NRC. The NRC coordinator says that the letter has been issued based on an order given by Gauhati High Court last year. Considering the timing and far reaching and retrospective impact of the letter, the religious and linguistic minority communities perceive it as a ploy to exclude large number of genuine Indian citizen from complete draft and make them vulnerable for torturous battle in the foreigners' tribunal and augmenting the risk of landing in the detention centre.
However, NRC coordinator has clarified that out of 92000 plus declared foreigner they could have identify only 4259 applications submitted by those declared foreigners. He speculated that the number of family members of the 4259 declared foreigners would be around 50000.
Meanwhile, the decision of excluding the family members of declared foreigners, who have documentary evidence to prove their Indian nationality and whom the NRC updating authority itself had provided the legacy document, not only created public outcry in Assam but also got attention from national and international media as well human rights bodies and human rights defenders.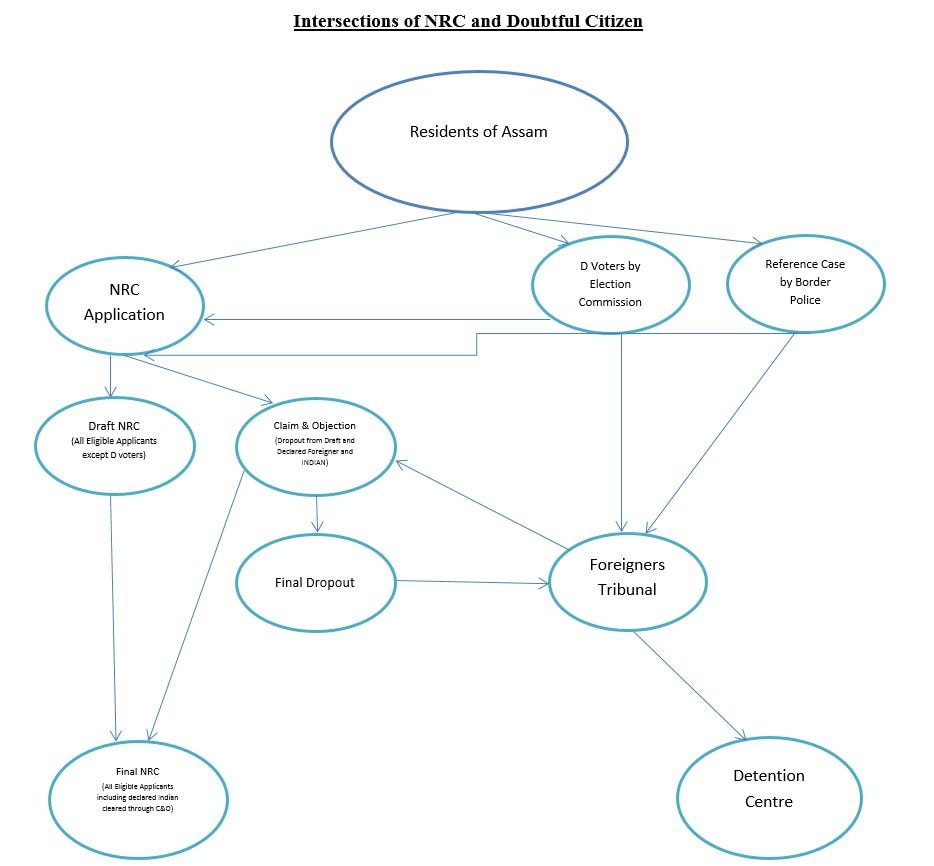 Opened the Pandora's Box?
On June 11, four Special Rapporteurs of United Nations Human Rights Council has sent a strong communication to the MEA Sushma Swaraj. The eight pages letter alleged that the order "may lead to the wrongful exclusion of close to two million names from the NRC, without a prior investigation and trial." The letter also questions the independence and impartial functioning of foreigners' tribunal and terms it as "so-called foreigners' tribunal".
It labelled serious allegation "members of Foreigners' Tribunals in Assam experience increasing pressure from State authorities to declare more persons as foreigners. On 21st June 2017, 19 members of the Foreigners' Tribunals in Assam were dismissed on ground of their under-performance over the last two years. More than 15 additional Tribunal members were issued with a strict warning to increase their efficiency. Considering that tribunal members serve on a contractual basis for two years, which may be extended on a needs and performance"
One of the terminated members of foreigners' tribunal, on the condition of anonymity said that one of their performance indicators was – how many cased they decided in favour of the state' or in other word how many cases they declared as foreigners!
In the wake of the controversy regarding the May 2 letter of the NRC coordinator, another important and shocking development is observed. Earlier this year, noted human rights worker and former IAS officer Harsh Mander led the National Human Rights Commission's Mission to detention centres in Assam as Special Monitor to NHRC. His mission studied the conditions of detainees inside two detention centres in Goalpara and Kokrajhar district of Assam and studied the process of the identifying doubtful voters and functioning of border police who refers cases to foreigners' tribunal. Harsh Mander submitted the report but NHRC didn't take any step on his findings and suggestions. He resigned from NHRC as Special Monitor and made his report public.
The report alleges "these detention centres lie on the dark side of both legality and humanitarian principles". There are nearly 900 hindred declared foreigners who are detained in six detention centres across the state. Some of them are detained for nearly a decade. Their families have been separated; they don't have any right to payroll, means of communication with the family members. There is no manual or proper guideline for the administration of these detention centres. In one hand the detainees are treated as convicted criminals on the other hand they are not allowed the basic rights like payroll and wage against which are available to convicted criminals.

Harsh Mander further wrote, "Overall, I am convinced that for a process that can result in the disenfranchisement, indefinite detention or expulsion of a person, the state government needs to ensure due process and, with it, compassion and an understanding of the predicament of persons with a poor education and lack of economic resources and social or political capital."
However, the Assam government and the NRC authority have not reacted either to UNHRC Special Rapporteurs letter or Harsh Mander's report.
Changing Narrative
The citizenship tangle in Assam has a long history and many complexities. Apart from the administrative complexities involving multiple agencies, nearly a dozen of Acts, Rules and Accords, numerous state and non-state stakeholders; the complexities of narratives are also emerging.
The narrative of large scale, uninterrupted influx of migrants from Bangladesh causing threat to demography, language and cultural heritage of Assam has been slowly shifting towards the narrative of persecution and mistreatment of genuine Indian citizen who are religious and linguistic minorities in the state of Assam. There is little doubt that the 'doubtful voter' and its ecosystem has been the breeding ground for such counter narrative and the May 2 letter issued by NRC authority has given the long awaited exposure to the issue.
This will be interesting to observe how the things get unfolded once the complete draft NRC is published.
Originally published at https://www.news18.com/news/india/despite-valid-documents-my-wife-is-a-doubtful-citizen-how-sword-of-nrc-is-destroying-families-in-assam-1827111.html